Hotel Info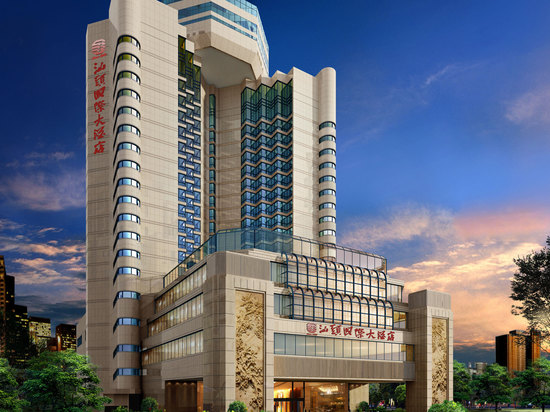 Shantou International Hotel
is located on the bustling section of Jinsha Road. It is about 15 minutes' drive from the Red Park area of the network red punch point, and it is a short walk to the commercial complex and market. Quasi-star hotel.
The hotel has more than 200 high-end guest rooms with Chaoshan cultural charm. The rooms are equipped with high-speed WIFI network, multi-channel satellite TV, exquisite Chaoshan Gongfu tea sets, Chaozhou woodcarving murals, Chaoxiu pillow covers, Chaoyun cultural series toiletries; suites are equipped with There is bathtub, boss stereo and capsule coffee. The bedding is made of Egyptian long-staple cotton, 450T high-knit dense knitwear and 60% goose down quilt core, and offers a variety of functional pillows.
The hotel has a Chinese restaurant 'Tai Chi Chao Cai', a Japanese restaurant 'Ushiichichome' and a revolving western restaurant 'Xuan Palace'. The 'Xuan Palace' restaurant on the 23rd floor was once known as one of the 'New Eight Scenic Spots in Shantou'. Passengers can enjoy 360-degree views of the city lights at night and taste global cuisine. Guests staying in the hotel can experience the gym, indoor heated swimming pool, jacuzzi, wet and dry sauna for free.
The Chao · Yu Wedding Customs Exhibition Area in the Qiang Hall and the Chaoshan History, Culture and Art Wall on the second floor are the must-visit spots for tourists from all over the world to understand the history and culture of Chaoshan and local folk customs.